Dominik Opens Up
April 28th, 2011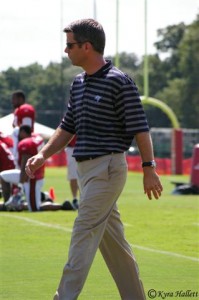 It's draft day! And the courts have dropped another hammer on the NFL lockout!
Merry Christmas! Joe can almost smell football.
In case you missed it on the radio, listen here to Mark Dominik's pre-draft interview with Justin "The Commish" Pawlowski of WDAE-AM 620. Joe's brought you nibbles over the last handful of days, but here's the whole thing. Click the arrow below or download here.
[audio: dominikpredraft.MP3]
Among the many takes, Joe finds Dominik's comments about linebacker prospect Dontay Moch and the Bucs playing a 3-4 defense particularly interesting. Plus, Dominik also says offensive tackles are the strength of the 2011 draft outside of defensive end.
Joe would have no problem with the Bucs landing a beast of a right tackle with an early pick. Very hard to go wrong with a stout offensive lineman.