Dominik On Draft, Hard Knocks & More
April 25th, 2011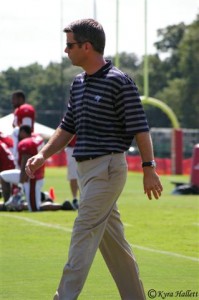 Rock star general manager Mark Dominik joined Mike Florio on Pro Football Talk Live this afternoon and Joe has the intriguing highlights:
Dominik said the lockout currently eliminating undrafted free agents from the equation will change the seventh round of the draft. Dominik explained that certain guys are more likely to be drafted rather than teams gambling on signing them in the hours following the draft. He gave the example of Erik Lorig taken with the team's final seventh-round pick last year. Dominik explained Lorig was "drafted because I knew he was a West Coast man … and it would be that difficult to [get Lorig] across country and sign here."
In response to whether he's drafting for need or staying true to his draft board, Dominik somewhat changed his previous stance. Dominik is straddling the fence, "Quite honestly it'll be a mixture of both of those." He said other no general manager would be honest if he says otherwise.
Dominik politely declined comment on Aqib Talib. In response to Chris Hovan's criticism on radio of the team's handling of Talib, Dominik said not everyone in organization is aware of Talib's discipline. In Joe's eyes it was a polite way of saying Hovan doesn't know what he's talking about.
Backing comments by Bill Polian, Dominik said the uncertainty of free agency "opens up our boards" and the reality that all free agents have to be presumed gone as a team approaches the draft.
Dominik said he's certainly interested in trading back if a coveted quarterback QB is there when the Bucs pick at No. 20. He said he's "reaching out to other clubs now to guage interesting trading picks."
Dominik's first answer to the question of the Bucs' top need? "I've always been a big believer in keeping our quarterback healthy and upright." He followed that up with expressing a desire to put heat on Matt Ryan and Drew Brees.
Hardly lobbying for an apperance on Hard Knocks, Dominik said "Hard Knocks is still up in the air with our organization. …We're going to still consider it," he said.