Derrick Brooks Gives Thumbs-Up On Clayborn
April 29th, 2011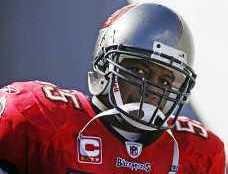 The Adrian Clayborn pick by Bucs rock star general manager Mark Dominik seems to have split the Bucs fanbase.
Many, largely consisting of those who don't watch college football outside of the SEC, railed in outrage that Dominik would stoop so low as to pick a Big Ten player, as if Clayborn played in a JUCO league.
Others, who are open-minded and watch football from all corners and who have watched Clayborn play, nodded in approval of Dominik's choice.
And who better to know an NFL prospect than former Bucs great Derrick Brooks?
Brooks, the greatest Bucs linebacker that ever played and now a pinball football executive, co-hosted "The Opening Drive" this morning with Bob Papa heard exclusively on Sirius NFL Radio. Brooks gave Dominik a golf clap for picking up Clayborn.
Bob Papa: I really thought the Da'Quan Bowers freefall would stop at the Bucs. I thought the Bucs would put the stop sign on and snag him. But they got quite a prospect in Adrian Clayborn.

Derrick Brooks: He's a tough, hard-nosed kid that will go hard. I knew they liked him and they liked his toughness. The thing I liked about him is he has fluid hips which gives him the ability to make a change of direction from the right end. He's physical at the point of attack. He will provide pressure fom the defensive front. When we got better, we did it on defense from front to back, started with Warren and myself.I see the Bucs adding that piece. I like the pick. I like the fact they went with Adrian Clayborn.
There you have it. It's one thing to mock Dominik. It's one think to mock Clayborn. It's one thing to mock those who don't play in a conference entirely located in the old confederacy.
It's quite a different thing to mock Mr. Derrick Brooks.