Colin McCarthy Talks To Joe
April 29th, 2011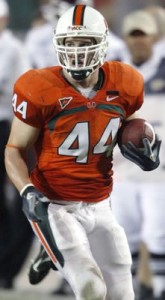 Joe is happy to have covered some stud players as a sports journalist. Locally, that includes Dexter McCluster, Michael Jenkins, D'Qwell Jackson and Riley Cooper — NFL players all — spring to mind for Joe.
Maybe tonight, certainly tomorrow, former Clearwater Central Catholic and University of Miami linebacker Colin McCarthy should join that list.
A clutch player at CCC in his high school days, McCarthy, a bruising, hard-hitting linebacker, has experience playing all three linebacker positions in a 43 defensive front and called the players for the Hurricanes on defense. McCarthy was voted by his teammates as one of the Hurricanes captains this past season.
McCarthy was kind enough to give Joe a few brief moments to discuss visiting the Bucs at One Buc Palace, potentially playing for the Bucs and his soon-to-begin NFL career.
JoeBucsFan.com: Did the Bucs talk to you at all about character issues and if that is a big issue with players they interview?
Colin McCarthy: No, that wasn't an issue. I just got the opportunity to visit and meet the head coach and then the defensive assistants. I got to speak with the general manager and got a tour around the facility and worked out a little bit. We just talked football and expectations and what they have and how I can fit into their system.
Joe: If the Bucs draft you, what kind of player are they expecting?
McCarthy: If they draft me, they are going to get a hard-nosed football player who can play any of the linebacker positions in the 43 system. They gave me the opportunity at Miami to make all the calls on defense and get the defense lined up so I'm ready to make that move to the next level. At the end of the day, no matter where I end up, I am going to keep pushing forward.
Joe: Tell Joe about being a captain for the Canes.
McCarthy: That wasn't the biggest thing with Miami, to get voted on by the players and to get their respect. Fellow teammates look up to you whether it's in a game or in the locker room or of the field for guidance and making decisions. I'm always looking out for [others] to set a good example.
Joe: What do you think about the possibility of playing for your hometown team?
McCarthy: It would be a great opportunity obviously. The Bucs are an up-and-coming team. They got snubbed last year for a playoff game but there is a lot of young talent there. Given the opportunity to help get them to be a playoff team and use my athletism and my passion for the game of football… I really think I could help them get to the playoffs and hopefully win another Super Bowl.
Joe: What was your take on Dominik? Did he grill you about anything in particular? What did he say he liked about you?
McCarthy: The one thing was, since I have played all three linebacker positions, it increased my value and how I can help the team. He also said he liked the way I carry myself on and off the field and the passion I play with and the mentality I play with and how I get to the football and make plays. Overall, there is no character issue and they are willing to let a football player approach the game as a professional and take full advantage of the opportunity to play for the organization.
Joe: What did you think of Raheem Morris?
McCarthy: I met a few coaches along the way during this period and [Morris] seems like a player's coach. From the first minute I met him at the Bucs facility, I knew right away he was going he was going to be very easy to talk to. I got a chance to watch film with him and we were going over plays. It would be a great opportunity to play for Raheem.
Joe: What did he like about you?
McCarthy: He told me I was a hard-nosed football player that will do what it takes to make a play, that I have a true passion for the game and he likes the way I lead and how I take control of the defense. I make most of the calls and he said I was smart enough to handle all of that as a rookie in the NFL, that I was more than capable of doing that.