Bucs Back On Monday Night Football!
April 19th, 2011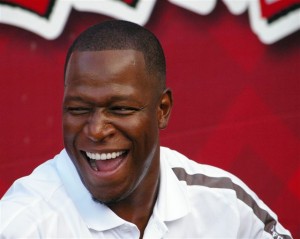 Bring on the fresh meat for the young Bucs to pound into submission.
Here's the schedule for the "best team in the NFC:"
9-11 LIONS (1 p.m.)
9-18 @Vikings (1 p.m.)
9-25 FALCONS (4:15 p.m.)
10-3 COLTS (Monday Night Football)
10-9 @49ers (4:05 p.m.)
10-16 SAINTS (4:15 p.m.)
10-23 BEARS (in London)
BYE
11-6  @Saints (1 p.m.)
11-13 TEXANS (1 p.m.)
11-20 @Packers (1 p.m.)
11-27 @Titans (1 p.m.)
12-4  PANTHERS (1 p.m.)
12-11 @Jaguars (1 p.m.)
12-17 COWBOYS (8:20 p.m.) NFL Network
12-24 @Panthers (1 p.m.)
1-1   @Falcons (1 p.m.)
Joe is fired up. End the damn lockout already.
The Bucs opened 2010 with four out of their first six at home, and the same holds true for 2011.
There can be no whining about this schedule from an exposure standpoint. The Colts at home on Monday Night Football in Week 4 (Chucky's return), and the Cowboys on a Saturday night in December on NFL Network, plus the Saints and Falcons at home in 4 o'clock games.