Winslow Is A Happy Man
March 13th, 2011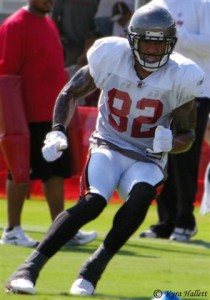 A model of consistency in the Bucs' lineup for the past two seasons, Kellen Winslow is extremely content, so he told Dan Parr of Pro Football Weekly.
And why shouldn't he be? His lack of blocking talent — and occasional lack of blocking effort — is accepted, and he's got a stud young quarterback looking for him.
Parr got a lot of happy-guy quotes from Winslow, who also described the maturation of his workouts.
"I knew we had the right guy leading us (at head coach), but I just knew we were really young," Winslow said. "For us to do what we're doing — it's pretty amazing with how young we are. (My teammates) made me a believer. I didn't know at first. I didn't know how good we could be."

The 27-year-old has undergone several surgeries on his right knee since he was involved in a motorcycle accident in '05 and his practice time in training camp and during the season has been limited by head coach Raheem Morris to give him time to rest and recover.

Winslow said his offseason workout regimen has also changed over the years, and that it currently consists of running, cycling and playing basketball.

"I've gotten a lot smarter," he said. "I just used to do anything I could because I wanted everything right now. I would already be running routes right now and be lifting a lot of weights."
Joe enjoys watching Winslow. What a Grade A talent. Joe just wonders how long he can manage his chronic injuries.
It sure wouldn't hurt the Bucs to draft a second tight end that can be a legitimate threat in the passing game.