Will Dominik Bust The Draft-Day Rules?
March 29th, 2011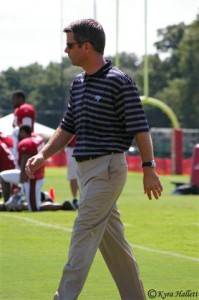 Mark Dominik is a youngster among his peers. He's a rock star general manager. But will he blaze a brave new trail?
Sports Illustrated columnist and NFL Radio and NBC Sports talking head Peter King warns fans that the young general managers around the NFL might very well toss the established logic in place on draft day.
And how many GMs are younger than Dominik?
5. The rules of top picks aren't the rules anymore. With a rookie wage scale likely to be in effect this year, Mayock's right when he says: "There are younger GMs who don't necessarily think the way the veteran guys do. A solid player might be picked higher than normal now, even if he's not at the traditionally more valuable position." It's the Logan Mankins theory — if a very good guard is on the board against a good tackle, take the guard who's going to be better longer. That's why it's not inconceivable that Patrick Peterson, a corner, goes number one or two — if he's the cleanest guy in the draft.
Joe has written previously that the likely rookie salary cap changes the game.
Like buying stocks or wagering at Derby Lane, the NFL Draft is about scoring value. And the whole value scale of the draft changes if first round picks are guaranteed 60 to 80 percent less than last year.
A guy like Dominik, who speaks of free agency like it's a particularly contagious strain of genital warts, could very well be the GM making the boldest moves to trade up in the draft or have a draft board that differs from most.