Who Said The Bucs Should Cut Kellen Winslow?
March 24th, 2011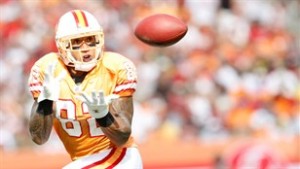 Joe knows Barrett Ruud is anything but a fan favorite. There are mobs of Bucs fans marching the streets with lit torches ready to run him out of town.
Joe himself has speculated that union-first Jeff Faine, with his hefty salary and unsettling number of missed games that has grown in the past two years (along with his age), may be a candidate to go bye-bye.
But Joe has yet to hear anyone suggest the Bucs wash their hands of tight end Kellen Winslow, yet this is the claim of video star Anwar Richardson and Woody Cummings of the Tampa Tribune. Both state they have heard this crazy rumor about Winslow from some uneducated if not inebriated folks who claim to be Bucs fans.
The Media General duo discuss the (un)likelihood of Ruud, Faine and Winslow not being on the Bucs roster whenever the NFL opens its doors again in this TBO Bucs vlog.
Joe suspects it's a pretty safe bet Winslow will be starting at tight end this season so long as his knee holds up.
[UPDATE: Just to be clear,  Cummings and Richardson were not pulling something out of their backsides with people speculating the Bucs will cut Winslow. Consider this post Joe had earlier this year.]