Tiki Talk Officially Tanked
March 21st, 2011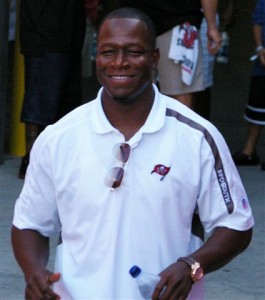 Buzzing around the NFL owners meetings and likely holding clandestine meetings with high-ranking NFL operatives, eye-RAH Kaufman of The Tampa Tribune has Twittered an official death bell of the Tiki Barber-to-the-Bucs rumors.
Ira: You can put those Tiki Barber to the Bucs rumors officially to rest. If Tiki returns to the NFL, it won't be with Ronde in Tampa Bay.
Joe's glad this is over (hopefully).
A running back that's been on his couch for four seasons, not to mention 35 years old, is a gigantic longshot that the Bucs don't need gamble on. In Joe's gut, he believes a Tiki signing would have taken too many carries away from LeGarrette Blount and possibly delayed his maturation.
Now the Bucs can focus on the more important backfield task — re-signing Cadillac Williams.