"The Coaches"
March 1st, 2011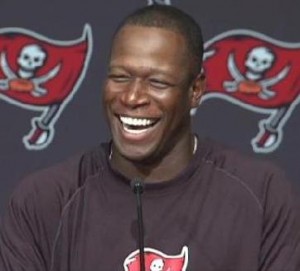 Sometimes Joe gets caught up with real life and real work and his leather couch sucking him in on a drained weekend night while watching the Man's Channel, the NFL Network.
Hence this was delayed a bit.
Over the past week, the good people of TBO.com, led by dynamic Dan Lucas, the sports czar of WFLA-TV, had a really cool series of interviews where Bucs coach Raheem Morris, Lightning coach Guy Boucher and Rays manager Merlot Joe Maddon had a sit down to talk about all manner of things, mostly about coaching and the Tampa Bay region.
In the first video, the coaches meet as they walk onto the set at The News Center. Check out Raheem's muscle which escorted him into the studio.
In the second of the six-part video series, the coaches discuss the secrets to their success.
The next video, the coaches explain the many ways confidence is critical to success.
A really cool segment was the fourth video where the coaches talk about leaders. Joe was intrigued with Boucher's description of a leader.
The coaches then discuss in the fifth video how they are able to handle young leaders. Given some players in the area like Josh Freeman, Mike Williams, Steve Stamkos, Victor Hedman, Evan Longoria and David Price, each man has no shortage of young superstars to nurture.
Merlot Joe has an interesting take in the final video when the discussion turns to fan support, or the lack thereof.
Take a break from work and check out the videos. It was a great concept and the folks at The News Center pulled it off — no small thanks to the Bucs, Rays and Lightning for cooperating.