Store Halts Sales Of Aqib Talib Gear
March 30th, 2011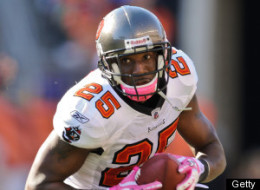 Outraged at the actions of Bucs cornerback Aqib Talib who tried to pistol whip and then shoot a fleeing man last week and appalled that Talib is a member of the Bucs, a local store known for its Bucs gear sales is stopping any further shipments of Talib's jersey.
Sensing the public backlash at Talib and knowing he would have to eat the jerseys, Eric Fox of Buccaneer Heaven made sure not another Talib jersey was delivered to his store, so writes Samara Sodos of WFLA-TV, writing for TBO.com.
Rumors swirling that Talib was involved in gunplay in Texas was enough for Fox, who on Monday canceled any further shipments of Talib's jersey to the Florida Avenue store which sells Buccaneers merchandise.

"Gun charges and NFL players don't seem to mix well," Fox said.
If this isn't evidence that Talib is done in Tampa Bay, nothing is. The man is now simply toxic to Bucs fans.