Pat Kirwan On Aqib Talib: "Dump Him"
March 31st, 2011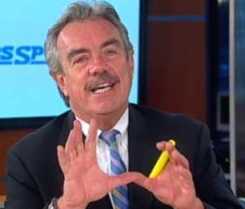 There are few NFL insiders who do the research and work behind the scenes with contacts on a daily basis from scouts to general managers more than Pat Kirwan.
The former NFL pro player personnel director and former linebackers coach, who now works as an analyst for NFL.com, CBSSports.com and Sirius NFL Radio, spoke about what the Bucs need to do with troubled cornerback Aqib Talib.
Kirwan on Wednesday summed up his feelings in two words: "Dump him," while co-hosting "Movin' the Chains" with Tim Ryan heard exclusively on Sirius NFL Radio.
Tim Ryan: If you are Mark Dominik and the Bucs, what do you do with Aqib Talib? It seem some of the Bucs are already trying to save his job. Jeff Faine has already started.

Pat Kirwan: I learned the hard way about guys like this. You dump him. You dump him but not before you replace him.
Kirwan went on to say Talib's decision to (allegedly) fire shots at a fleeing man last week may have forced Dominik and the Bucs to spend on a cornerback in free agency. Many Bucs fans will embrace themselves in the knowledge that Kirwan suggested the Bucs sign the free agent flavor of the season, Nnamdi Asomugha.
But Kirwan also touted that the Bucs draft a guy that intrigued Joe, Miami's Brandon Harris. Kirwan lauded Harris for his smarts and his attitude and how he has natural instincts for the game, likely coming from his father who is a football coach.