King Of Turds Is At It Again
March 4th, 2011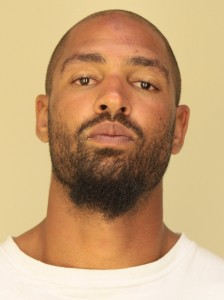 Well, well, well, it didn't long take the King of Turds to rear his ugly mug (shot) yet again.
Thrown off the Bucs for trying to sell pot, allegedly, the night before the Bucs played the Lambs, Stevens again was dragged off to a Hillsborough County cage for going wilding at the Hula Bay Club Thursday night, per Josh Politlove of the Tampa Tribune.
After being escorted from the bar he punched two bouncers; bouncers took him to the ground, trying to control him until police arrived, police said.

One of the bouncers suffered a possible broken jaw, police said. Stevens was struck in the face and suffered swelling and soreness, police said.
Joe just remembers how this piece of human debris was lauded by Bruce Almighty as a reformed man, an angel if not an asset amid the Tampa Bay community.
Both the King of Turd's history and present suggest he's a profound menace to society.
Still.