Joel Glazer Is Filled With "True Love"
March 22nd, 2011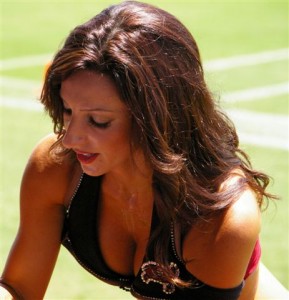 Man, Joel Glazer seems to be one super happy dude strolling around the NFL owners meetings in New Orleans.
And why shouldn't he be strutting his stuff around his billionaire peers?
Glazer's Bucs have a pile of young talent, won 10 games, spent peanuts to do it, and have one of the best stadium deals in all of sports.
Life is good for Team Glazer. Even Manchester United is cruising toward another title.
Disney NFC South blogger Pat Yasinskas had some warm and fuzzy time with Glazer on Monday and shared some of Glazer's gushing love for his team.  
The Glazers get labeled as being detached owners because they're not as visible as some others in the league. But I think that's a huge misconception. While you don't see the Glazers on the sidelines like some others, they're far from absentee owners. It's not unusual to run into them at One Buccaneer Place or see them roaming Raymond James Stadium. Back when Malcolm Glazer, the father of Joel, Bryan and Ed first bought the team, one of the reasons he cited for making the move was his sons' love of the game.

"I love football,'' Joel Glazer said. "I haven't missed a Tampa Bay Buccaneers game since we've owned the team and gone all the way to Japan. I live for Sundays. I live for the wins and can't stand the losses. Anybody who knows myself or knows my family knows this is a true love. To have a young team that you know is going to get better and to compete for the ultimate prize, that's what you're in this for and that's why it's so exciting.''
In the full story linked above, Glazer made numerous references to the Bucs sticking to the "plan" they crafted that ushered in the Raheem Morris era. All the fuzzy history of the "plan" implementation aside, Joe wonders what's honestly next.
When does Team Glazer plan to adopt a right-now mentality and go all-in for the Lombardi Trophy?