"Crime" Not To Cut Aqib Talib
March 30th, 2011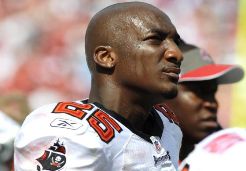 Now Joe is the first one to know that reporters and columnists rarely get to write their own headlines. That's generally the work of copy editors — people readers never get to see on TV, hear on radio and rarely if ever see their bylines in the 19th century news delivery service called "newspapers."
But kudos to whoever at The News Center wrote the headline for Joe Henderson's column about Bucs cornerback Aqib Talib, who was slapped by Garland (Tex.) police with a felony arrest warrant yesterday.
[UPDATE: When Joe first wrote this post at 1:27 a.m. this morning, Joe thought that headline for TBO was rather bold. And Joe was right. The fine folks at The News Center saw fit to change the headline from "It would be a crime if Bucs Didn't Cut Aqib Talib" to something softer. ]
Henderson is the voice of reason among Tampa Bay scribes. Naturally he is appalled at the latest stunt by Talib and Henderson, almost writing as if he is sighing with relief, believes Bucs rock star general manager Mark Dominik will turn the page and begin a new chapter in Bucs history.
[Talib] makes plays, some of them spectacular, but the Bucs can't count on him. He has the talent to be a fixture at the Pro Bowl, but it keeps getting short-circuited by his lack of common sense.

Maybe the legal system of Texas will beat Dominik to the punch, so to speak.

Talib faces the potential for considerable time in the slammer, but the Bucs can't wait for the final act in this theater of the absurd.
Yes, as Joe alluded to yesterday, Talib has entered Tanard Jackson territory. Time for a spring cleaning.
At least with Talib (and Jackson) off the roster, you know you will never have his services again, which is a much better position than not knowing when, or if, you will have his services again.