Could The Bucs Use Tommie Harris?
March 2nd, 2011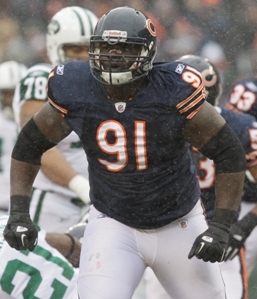 Always with an eye for the Bucs to sign a free agent, Joe was a bit surprised he didn't have his inbox filled by loyal readers — and Joe has his February numbers in. Let's just say Bucs fans have literally blown Joe away with support. Joe actually did a double-take with the traffic figures. A humble and sincere thank you to all — wondering if defensive tackle Tommie Harris could help the Bucs.
The Bears recently parted ways with Harris. It seems some at the NFL Network right away thought Harris was Tampa Bay bound, including someone named Elliot Harrison who wrote about this very subject on NFL.com.
[Harris] is one release that surprised some folks in the NFL Network newsroom Tuesday. But Harris just hasn't been an impact player the last couple of years. While there's been some speculation that he could end up in Carolina with his former defensive coordinator Ron Rivera, a great spot for Harris to touch down would be Tampa Bay.

The Buccaneers have two second-year defensive tackles in Gerald McCoy and Brian Price, and adding a guy like Harris isn't the worst idea ever. Besides being a mentor, fewer snaps might translate into more effectiveness for a player entering his eighth season. Harris and McCoy both played for Oklahoma, and we all know how those allegiances go.
Nice thought but Joe doesn't buy this for a number of reasons. It's clear that Bucs rock star general manager Mark Dominik doesn't believe in "mentors." Dominik believes in production. This was a huge concern last offseason and it proved to be trivial. So Dominik isn't going to sign a guy to be a part-time coach when he already has coaches in place.
Second, what makes anyone think Dominik will sign a free agent?
Joe's not arguing Harris may not have some value with the Bucs or that signing him wouldn't have some merit. But it's already a crowded field at defensive tackle with GMC, Brian Price and Roy Miller. Not sure Bucs fans should be preparing any housewarming parties for Harris in the near future.