Raheem Tops In Entertainment
February 19th, 2011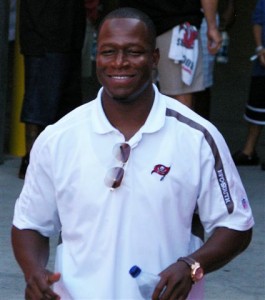 During a live chat with BSPN.com minions Friday, NFC South blogger Pat Yasinskas was asked to grade the entertainment value of coaches in the division.
And the man who loves to call himself an entertainer, Raheem Morris, quickly was annoited fun-guy-in-chief by Yasinskas, who also claimed that Raheem has a heckuva lot to say compared to his counterparts.
Eric

… Is Raheem most entertaining coach in Nfc South? Tell us something funny about him!

Pat Yasinskas 

By far. When I get the daily transcripts of coaches quotes from around the division, Raheem's are usually three or four pages. Payton's are usually two. Smith's might be one page. Fox's were usually just a couple paragraphs.
Interesting.
Mike Smith only has one-page transcript of his news conferences? For a winning team?
This tells Joe the Atlanta media is lame and that the NFL was even more asinine for endlessly running that stupid Falcons-on-the-bus commercial all season long. Why shove a boring dude down everyone's throat when you could be marketing Raheem?
Also, since the Bucs don't circulate daily transcripts from Raheem's news conferences — the video is online — Joe finds it interesting that Yasinskas has BSPN staff feeding him every word from the NFC South coaches. What a luxury! Joe suspects Yasinskas would be more entertained by Raheem if he actually watched the head coach every day.
Joe wonders how Raheem's entertainment value ranks among the rest of his coaching brethren.