Cam Newton On Mark Dominik's Radar
February 25th, 2011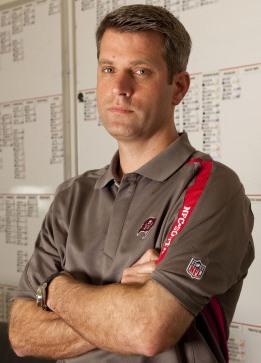 There are certain daily rituals Joe has:
* Slug down mass quantities of coffee and Diet Mountain Dew each morning to jolt himself awake (often it takes roughly 40 ounces of a combination of the two).
* Listen to Sirius NFL Radio by day.
* Watch the channel all real men with a pair have wired in their living rooms, the NFL Network, by night.
(Joe heard from a loyal reader Thursday that said reader doesn't have the NFL Network because his HOA fees pay for the satanic Out House Networks. No excuse! Joe's HOA does the same but that does not deter Joe from having DirecTV, armed with the power of the federal government to do so. If using the premise that one cannot have the NFL Network because of HOA fees, well, by that logic since Joe pays HOA fees, that would also mean Joe would have to start using feminine products. Just because your HOA has a corrupt and illegal under-the-table deal with Out House Networks does not mean one has to capitulate and wear skirts and blouses and watch Lifetime. Man up!)
Like Tuesday when Joe caught Ronde Barber on Sirius NFL Radio and transcribed the interview for his readers to digest, Joe did the same Thursday when he heard Bucs rock star general manager Mark Dominik appear live from the NFL Combine in Indianapolis for a sit down on "The Blitz, co-hosted by Adam Schein and Rich Gannon, naturally heard exclusively on Sirius NFL Radio.
Some interesting nuggets Joe learned were Dominik enters the combine with a clean slate, and evaluates all players with equal detail no matter who he has on the roster, including quarterback prospect Cam Newton. Dominik also believes Josh Freeman's first two seasons mirror Aaron Rodgers' numbers.
Adam Schein: Is LeGarrette Blount the main man at running back for the present and future for the Buccaneers?
Mark Dominik: He showed he can carry the load for us. He got over 1,000 yards. He did a good job for us. Certainly he can still grow in what he can do for us in the passing game as well. He was kind of limited there. He only had a couple of catches. So you can certainly grow there and he certainly filled an important void on a football team when you have a young quarterback to have a back to hand the ball off to to take a little bit of pressure off of him as well.
Rich Gannon: Mark, you go back and look at tape from last year, guys you drafted high, Gerald McCoy and Brian Price and Mike Williams, tell us how you think they did their rookie seasons.
Dominik: Well Gerald was really coming on when he got injured about three-quarters of the way through the season. He was just coming off his best games. He had multiple back-to-back sack games so he was really coming into his own. I think that was as much a disappointment for him as it was for all of us to watch the light finally come on and to figure out what these big ole' offensive linemen do in the National Football League, and hard it was to play so his play was very encouraging. Brian Price unfortunately had some hip injuries and we had to put him on the IR early so we only got a glimpse of what he can be. But we are looking forward to him coming back. Of course Mike Williams came in and from Day 1 of camp, it was obvious this is a guy who was committed to being a great pro. He worked at it every day. You would have loved him playing for you because the guy practiced every day when he had a chance. It was really important to him. There was a day he could have sat out with a foot injury that he had to deal with, he wouldn't miss practice. Arrelious Benn really came on until he had an unfortunate injury at the end of the season, but he really stepped it up at the end to score some touchdowns for us at the end of the season too.
Schein: Mark, what kind of feeling is that as a general manager when you have all of these prospects, you obviously put in all the time in the offseason last year you are here at the combine you are at the draft you have guys — myself included — "Hey, how come these guys aren't active in free agency? How come they are not making trades?" Then you slam it out of the park like that with that draft class with that rookie class when you add in Blount and Larsen. What kind of feeling is that as a general manager?
Dominik: Well, I think it's exciting for us in Tampa and for our fans that we are building something that we think will last for a long time. I think that is the most important thing. We have our quarterback now and once you have that in place you have a chance to win every year. We have that in place and that is the most important element. Then again, last year we took advantage of that draft class. We had 25 guys from that draft class on this football team that contributed for us and helped us win 10 games. And our players really bought into the system. Coach Olson, they turned to him on the offensive side and coach Morris as you well know is the type of guy you can follow and that was a big help in the development of this team.
Gannon: Mark, you look around at your division and you talk about quarterbacks. Certainly you have Drew Brees is an outstanding one. Matt Ryan is a really good player. Carolina has their issues but the development and the emergence last year of Josh Freeman, just your thoughts of what he was able to accomplish in Year Two.
Dominik: Well, I thought me made tremendous strides in every aspect of the game. No. 1, I think he improved his accuracy over 55 percent which is tremendous to improve to over 60 percent and that's what you want him to do and…
Gannon: It took me a career to do that!
Dominik: I don't remember that but I do remember when you worked out in Kansas City and Mark Hatley worked you out. I remember that being a great day. I would say with Josh the touchdown-to-interception ratio was phenomenal. What he posted was the ninth-best in NFL history. To go from 10 touchdowns and 18 interceptions and turn that around and to 25 touchdowns and six interceptions is really incredible. For a 22-year old to do that in the National Football League at the level he played… that's what we are all talking about, the decision-making he made. It's an important element.
Schein: Mark I am not saying this because you are sitting here. I think Josh's upside — and people forget how young he is — he can be a league MVP. He can lead you guys to a championship. What do you see when you see the upside of Josh?
Dominik: Well, I see the same thing. You know what, I have gone back and looked at Aaron Rodgers over the past couple of years. That's kind of how I saw Josh develop…
Gannon: Yeah, yeah…
Dominik: You see how Aaron is able to use his feet and obviously he is a phenomenal passer. The thing about Aaron is when he got his first shot his touchdown-to-interception ratio and how that has progressed and how he has been consistent with 30 touchdowns and 10 interceptions. But what you see with Aaron Rodgers is that his accuracy began to improve every year. I think if Josh is able to do that with more experience and we can continue to get weapons around him that can help him I think it will be exciting. That's why I think this draft and coming here this week and starting to see some of these receivers and some of these tight ends and some of these running backs, all of these weapons that we want to let Josh to play with, it gets us fired up too because we know we can help him be a better player as much as he already works hard at it.
Gannon: Mark if you go back and look at all the film and all the cut ups as you get ready to prepare for the combine, specifically looking at your football team what are some areas where you need to continue to add in terms of getting over the hump and winning a division and going deep into the playoffs?
Dominik: There are a couple of different areas. I'm a big believer in protecting and attacking the quarterback. I just think that's where a lot of it starts. I think we can do better at both. I think that is an area that we can look into. I still think we can look into an area where we can get some more playmakers for Josh Freeman. We have a lot of guys that are expected to become restricted free agents at the linebacker position. Four out of six guys are without a contract or coming out of a contract. So that is certainly a position that if we don't do something in free agency or we don't do something with our guys it's certainly going to be a spot that we will have to look at in this draft for long term thinking.
Schein: I'm curious as to what you saw when you looked at your defense? I said this to your coach down the stretch, I said, "Look, Raheem, I hope you don't take offense to this but I see an opportunistic defense that you made plays when they mattered the most. I wouldn't have called your defense a great defense necessarily last year." What did you see when you looked at the Tampa defense?
Dominik: I think we agree with exactly with what you are saying. We don't feel like we are a finished product by any means on either side of the ball but specifically on the defensive side of the ball. When we go the opportunity back in 2009 we did gut the team very hard. And so to get guys back in place and get the team that you want back in there is going to take a little bit of time. The best thing about what is going on in Tampa is everyone has bought into what we are doing and how we do it. Coach Morris has now developed what we call a Tampa-2.1, where we changed it up a little bit where we do a little bit more man coverage and more three-man rushes.
Schein: I like that. Tampa-2.1. That's good!
Dominik: Well, we changed it up and that's what Raheem has installed and it has been effective. I think you just saw a major change last year but I know we can get a lot better like we had been when I was around in the 90s.
Gannon: Mark, how important was it to get a guy like Ronde Barber under contract? Here is a guy who is timeless. He gets better with age. Of course you see what an influence a guy like Ronde has on those young defensive players, tell us just how important it was to get Ronde locked up.
Dominik: It was really important. I met with his agent and went out and had dinner with Ronde one night. We just talked about what he really wanted to do. I told him how important he was to this football team. So it was a conversation that didn't take a lot of work because he still had a passion to play. We understand the importance of his leadership on and off the football field and I think the thing that shows with Ronde being able to play in 183 consecutive games to beat Dick LeBeau's all-time record for a corner shows his commitment to the game and how he keeps his body right. So many young guys can learn from that, about how to get your body right because it's not just your mind but how you treat your body and how you treat it every day. To be able to play as long as Ronde is just as miraculous as his continued success on the football field so it was very important.
Schein: You referenced free agent linebackers. Who are the priorities for resigning with the Buccaneers?
Dominik: We have 10 or 11 guys coming out of contract. We have guys that are key contributors and guys who have stepped it up on special teams for us. Certainly a lot of people have made a lot of Barrett Ruud…
Schein: What is the latest on that situation?
Dominik: Well the good news is that actually his agent is waiting for me as soon as I am off the radio to go sit down and have a chat with him,
Schein: Oh, good!
Dominik: Yeah, just to talk to him and see what is going on. He is also Ronde's agent so we already have had some preliminary discussions. So we will talk a little further about that. Davin Joseph is a good consistent player for us and we have Jeremy Trueblood so we have some good players and we will use this time at the combine. We meet with all of our players' agents here even if it's just a 10-minute chat just to give them a state of the union, how's it going, how are they doing in Tampa, even if they are not coming out of contract. Just because I think education is a good thing,
Gannon: Mark, I am curious to get your take: You are a team that has a really good situation at the quarterback spot. Do you, will you take a good look at a guy like Cam Newton or Blaine Gabbert just to go through the evaluation process even though you know you probably, well, pretty certainly won't be taking a quarterback in the first round? Do you still go through the evaluation process even with guys like that.
Dominik: That is the best phrased way anyone has asked that here. And I say yes, we do, you have to…
Gannon: You have to! You have to do your homework, right? You don't know what will happen down the road. At some point you may get them down the road.
Dominik: You could have an injury…
Schein: You have no idea.
Dominik: Right, you could have an injury. You just don't know. You could have an injury. You just don't know what's going to happen. Certainly that hones you as an evaluator. The goal is to become the best evaluator of talent that you can as an organization. And quarterbacks are obviously one of those difficult positions to evaluate as they transition to the next level. So we will still make our evaluations of those players like a Cam Newton. Where would be we take him? How do we feel about him? And we will then regrade ourselves. We evaluate not just the guys we take but the guys we didn't take. "Why did we take him? Why didn't we take him?" We try to learn about the draft all the way through. How does a guy from Delaware come into the National Football League as an undersized quarterback? I'm sure there were a lot of clubs when you signed with Kansas City and went on to Oakland and had success, I'm sure there were clubs that said, "Why didn't we sign Rich Gannon?" Well, you have to go back and look at what did you miss? We evaluate the entire draft class because I believe that is the only way you can get better.
Schein: How did Raheem Morris get better as a head coach?
Dominik: I thought from year-one to year-two, his organization was phenomenally better. I think part of that was he was thrust into it and it was all new and we were hiring new coaches and there were a lot of changes in Tampa. I think he has become a much better leader and a much better organizer in terms of practice in terms of tempo in terms of when you are with the players how you discuss things with the players and how do you relate to the players. All of those types of things he really developed and I think he really enjoyed taking over the defensive coordinator job. It really dialed him in to what he is and what he is becoming as a head coach as well. I think mainly that was the real transition. Again, he has a magnetic personality. He is not afraid to speak his mind and I think the players really respect that. They know every day where they stand with him.
Gannon: Mark I think where you really got better last season was that you made use of the offseason. Even a guy like Greg Olson who went back and cleaned up some of the offense and the things he didn't have an opportunity to do when he took over for Jeff Jagodzinski. When you think about that time and how important it is, how concerned are you that some of that time may be jeopardized this year if you have a long lockout and you are not able to spend quality time with these players in March and in April.
Dominik: Well the positive thing going for us in Tampa is that we have consistency in both the offensive and the defensive coordinators and the system. Another thing that helped us out is, you can do all that you want on the practice field but it's game time that makes the difference and our young players played last year. A lot of them did. A lot of them got experience on the offensive line, at receiver, at defensive back, at the d-line. We had safeties coming in in the last week of the season and take snaps for us like Larry Asante. That is the one thing I take from it is we may not have the time on the football field in terms of practice, we will see, but we got a lot of work in game tape and action.
Schein: Last year you had a great season. Any other season you would have been in the playoffs with 10 wins but you didn't. You lost out on a tiebreaker and there are some who think to prevent that from happening the playoffs should either be expanded or adjusted. I think it was a blip as opposed to a trend. I thought the NFC West turned out to be the worst division in the history of the NFL. It was terrible that you guys didn't get to go. But I wouldn't change everything just on what transpired last year. What is your take? A lot of people were saying you have to get Tampa in. How does a team like Seattle get a home playoff game? If you were the league would you change anything?
Dominik: No, I really wouldn't change much. It is just the unfortunate thing. The Giants were ahead of us in the tiebreaker and they didn't make it in. That's our own fault. We still could have won another game. That's what it comes down to. You have to take care of your business and win the games that you can win so you get a chance to play in the postseason. I actually love the fact — there's a reason why on this [NFL] emblem there are eight stars. That's cause each division has a winner and a playoff team. You know what? If 10 wins doesn't get you in the playoffs, then win 11.