Bucs To Tag Joseph With Shaky Tender
February 24th, 2011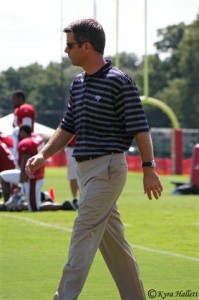 For those who don't give a hoot about contract negotiations, this could be an annoying post about a somewhat bogus restricted free agent tender the Bucs will slap on Davin Joseph, per Rick Stroud of the St. Pete Times.
In a nutshell, Joseph's five seasons of service might not be good enough to get him to unrestricted free agency in 2011. That depends on the labor agreement the owners and players agree to in the coming weeks (months?). Four years of service was once enough to do it, but that bumped up to six temporarily last year, and there's no telling what will happen next.
Joseph has played five seasons. And he has no contract for 2011.
Stroud claims the Bucs soon will put a one-year, restricted free agent tender on Joseph, just in case he would fall under that classification for 2011. That way they have him locked up, much like they did with Barrett Ruud last year.
In Joe's eyes, all this means is the Bucs are serious about keeping Joseph a Buccaneer, or they know he's darn good value for 2011 at the approximate tender cost of $3.2 million, and they don't want to lose that option.