Bucs Looking Lockout Vulnerable
February 23rd, 2011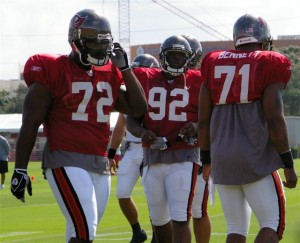 Derrick Brooks has spoken multiple times on radio about how he believes the Bucs could be hurt immeasurably in the event of a lockout — because they're so young and learning how to be professionals.
Mike Alstott essentially echoed that sentiment during his tour of many local radio stations last week.
But the thoughts of these icons clashed with Mark Dominik's comments to Roy Cummings of the The Tampa Tribune weeks ago. Dominik said the Bucs' youth, energy and subsequent health and fitness would serve them well during any off time.
Now there's a new voice that says the lockout will hurt the Bucs disproportionately. That's Dan Pompei, longtime NFL scribe now working for NationalFootballPost.com.
Pompei identified 12 teams that could pay a price in the event of a lockout. All had either new coaches or coordinators except the Bucs.
… and Bucs (this is a young team that needs as much work as possible to take the next step).
This issue can be spun so many ways, but Joe's never going to believe a very young team like the Bucs is going to be more disciplined during time away from team supervision than a veteran- laden club would be.
Raheem Morris might be called on for more miracle work to get the Bucs in the playoffs, if he ends up with abbreviated training camp and preseason.