Bucs Just Need A Defensive End
February 23rd, 2011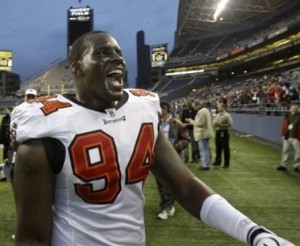 Sure, the Bucs had a great 10-win season. If not for that horrid game against the Lions, the Bucs would have been in the playoffs.
As recent years document, just get to the tournament and damned near anything can happen. Hell, the team that beat the Bucs out for the final playoff spot in a tiebreaker, the Packers, won it all. Arizona won the putrid NFC West two seasons ago and came within a handful of seconds of lifting the Lombardi.
Alex Marvez of FoxSports.com believes he knows just what the Bucs need to propel them over the hump and get the Bucs in the playoffs.
That would be a defensive end. Marvez breaks down what each NFL team needs to be an elite team and a defensive end is just that void for the Bucs.
Tampa Bay: A pass-rushing defensive end. The Bucs solidified their defensive tackle spots for years to come in the 2010 draft. Tampa Bay must now upgrade the two spots next to Gerald McCoy and Brian Price. Bucs defensive ends tallied a combined 11.5 sacks, which is a lower total than the efforts of six individual NFL players last season.
Joe isn't so sure the Bucs actually need two defensive ends, but it would not surprise Joe if Bucs rock star general manager Mark Dominik did draft two defensive ends early, but like last spring when he drafted both Gerald McCoy and Brian Price with his first two picks.
But with the addition of two defensive line coaches, maybe there is still some hope left for Kyle Moore?