Would You Trade Josh Freeman For Anyone?
January 5th, 2011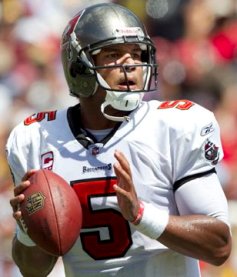 Bucs quarterback Josh Freeman is, some believe, on the cusp of superstardom.
As a result, Bucs rock star general manager Mark Dominik believes there isn't a player of equal trade value for Freeman in the NFL.
Bucs GM Mark Dominik says he wouldn't trade 22-year-old QB Josh Freeman for any NFL player. If you've seen Freeman play, you'd agree.
That's an interesting thought: Would a team — any team — get equal trade value if they were to trade Freeman?
Joe supposes there are some. Tom Brady springs to mind, though age may be an issue. How about Clay Matthews? Perhaps Patrick Willis?
True, there aren't many. But Joe believes there might be a few.