The Law Comes Down On Gerald McCoy
January 30th, 2011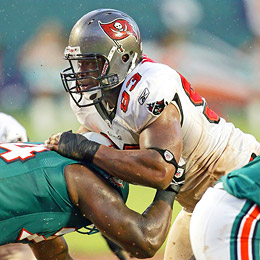 Already in San Diego training/rehabbing his torn bicep like a madman and loving it, per his Twitter acccount, Gerald McCoy fell a little less in love with his left coast experience on Friday.
McCoy wrote that he got punished by local cops for talking on his cell phone and driving.
Apparently driving and talking on the phone is illegal in Cali bc I just got a ticket for it!! Not even a warning. I have a Florida license.
Joe knows the dangers of chatting on the phone and/or texting and driving, but Joe will never understand how these states crack down on that stuff yet it's perfectly legal to have two hands on a hamburger or a mitt in a bag fishing for a french fry.
Big Fast Food has quite a stranglehold on the government.