Raheem Says 2010 Cultivated Offseason Focus
January 6th, 2011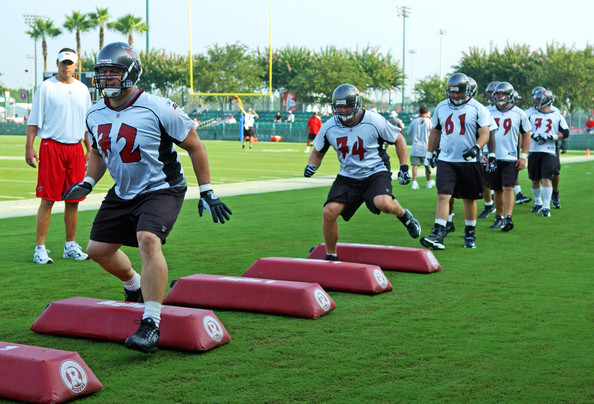 A massive issue facing every NFL team, if there is a lockout of players in March, will be keeping guys motivated and focused on football when they're essentially free men.
When there's no weight lifting at One Buc Palace. When there's no rookie minicamp to report to. When there's no OTA days for which to stay in shape. When a pile of guys are free agents.
Joe has visions of the Yankees letting Josh Freeman use one of their fields off Dale Mabry Hwy. for daily throwing sessions. He could probably make some serious money selling tickets to that.
In theory a prolonged lockout should be a huge problem for the Buccaneers, who have a young roster of guys that might need a little more guidance than other clubs. And most Bucs are only in the beginning of their development as professionals and benefit greatly from OTA days and even loose supervision. 
Speaking on WDAE-AM 620 yesterday as a co-host with Steve Duemig, Bucs icon Derrick Brooks expressed great concern about guys not being able to use the Bucs' facilities to keep them connected with the team.
When Raheem Morris called in to chat, Brooks asked him about his young Bucs staying motivated. Raheem said the successful next-man-up 2010 season will keep his guys hungry and fearful.
"Having the ability to play as many people as we did, everybody on the team kinda knows, 'Man, there are a bunch of guys around here that can play. So if I want to get my spot back I better get back into the room and get back into the lab and figure out how I can get better,'" Raheem said. "We don't necessarily have a Derrick Brooks or a Warren Sapp, which is unbelievable players that are going to go out there and get it done no matter what. Even though I watched [Brooks] come here every day in the offseason. These guys are going to want to keep competing."
Joe suspects only a select handful of Buccaneers will feel job security entering 2011.
Joe hopes Raheem is right about his players' drive and focus, but a prolonged lockout, if it happens, seemingly would be a greater handicap for the Bucs versus their more veteran rivals in Atlanta  and New Orleans.