Raheem Implies Free Agency Is The Wrong Way
January 4th, 2011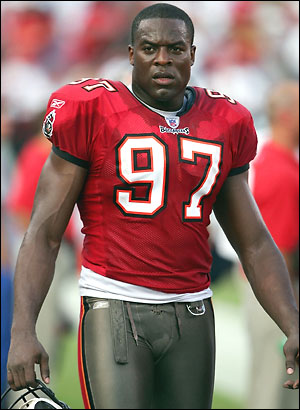 Joe is fired up at the prospect of the Bucs dusting off the checkbook in March to get a big time pass rusher in the building.
It worked before with Simeon Rice helping push the Bucs over the top. And Joe surely sees no reason why bringing in a couple of free agent studs on defense should automatically impede the Bucs' plans to build organically with youth. That's just foolish.
If you pick the right guys, then free agency is a great friend, not the dark path Joel Glazer called it in 2009 (only a few weeks after the Bucs made a run at Albert Haynesworth).
But Raheem Morris doesn't seem to agree with Joe, per his comments last night on WDAE-AM 620. Morris all but dug his heels in the turf and said the draft is the only way to go.
"I start my draft process here coming up very shortly. …[Mark Dominik and the staff] give me a list of people. They give me a list of the top 100 by position. And I get a chance to start breaking them down, looking at all those guys and going through the process that I like to go through in whatever format I'm feeling that day. To name names, we don't tamper in Tampa. I can't actually call out games of the guys you would like to have.

"We look forward to the draft. It has to be big around here. You know, we got a saying, 'We want to draft players that we want to re-sign.' You know everybody goes out looking for free agents. But we want to draft our guys, get'em here, let'em grow, build them, and then re-sign our guys. Let's be right in the draft, and let's do it the correct way."
Frankly, Joe doesn't see how Raheem and Dominik could dislike free agency in one breath while claiming at the same time that they're always looking to do everything they can to upgrade the football team. Something doesn't fit there — sort of a clash of core beliefs.
Regardless, Joe believes the head coach and general manager will do whatever it takes to deliver the best Bucs team for 2011. They've earned that respect after dumping Jim Bates and righting the ship in a big way.