No Postseason Killed Raheem Morris' Chances
January 13th, 2011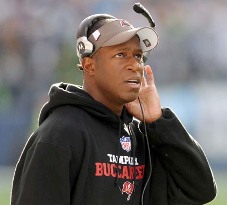 Joe has gone on record for weeks, no, months, that Raheem Morris should be the NFL coach of the year.
Other astute NFL minds have joined Joe such as Adam Schein of Sirius NFL Radio and Michael Irvin of NFL Network.
Sadly, not all agree with Joe. Veteran NFL reporter eye-RAH Kaufman of the Tampa Tribune believes the Bucs missing out on the postseason will do in Raheem's chances at the award, so Kaufman Twittered on the TBO Bucs Twitter feed.
Terrific job turned in by Raheem Morris this season, but he's not going to win Coach of the Year honors. Not making the playoffs hurt.
Joe can understand this. It's sort of like people watching only SEC football and dismissing any team as remotely good because said team may play on the left coast.
At risk of turning into Raheem's public relations assistant, no coach did more with less than Raheem. He increased his win total by seven games — seven! — from the previous season largely with castoffs and rookies.
No team started as many rookies and won 10 games than the Bucs this season since the AFL-NFL merger 40 years ago. That's four decades folks.
The man others are jocking for coach of the year, Bill Belicheat, is an unethical scoundrel who just so happens to have one of the best quarterbacks in NFL history playing in a milquetoast division.
Prior to the season if someone would suggest Belicheat would win 14 games, the response would have been little more than a shrug of the shoulders.
If, prior to the season, someone suggested Raheem would win 10 games, Joe would have had the man either drug tested or committed.
Now who exactly did the better job? Please, this is a no-brainer.