Mike Mayock's Top Picks
January 27th, 2011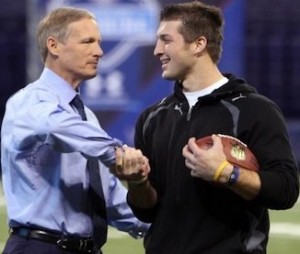 You can talk Mel Kiper, Jr. all day long if you wish. You can babble about Todd McShay if the mood so strikes.
You can have them.
Though Joe truly enjoys listening to Kiper on sports radio, in Joe's mind, there is no one that comes as close to the late, great Joel Buchsbaum as does NFL Network's Mike Mayock.
Joe was listening to Mayock yesterday afternoon with Tim Ryan and Pat Kirwan as the trio could be heard live from the Senior Bowl practices in Mobile, Ala., on "Movin' the Chains," heard exclusively on Sirius NFL Radio.
That 15-minute segment was worth Joe's subscription for the month of January. It was simply outstanding and enlightening.
In short, Joe learned that Texas A&M linebacker Von Miller is simply blowing up everyone and everything, Florida State offensive lineman Rodney Hudson can play either guard or center at a high level and that Boise State wide receiver Titus Young is the second coming of DeSean Jackson both on and off the field, which is both good and bad, among many other tidbits.
Mayock, per TBO.com, has broken out his top players at each position and interestingly, Mayock has Iowa's Adrian Clayborn rated higher at defensive end than Purdue's Ryan Kerrigan and has Georgia linebacker Justin Houston rated as the No. 3 linebacker.
Houston is a player Joe has tried to monitor as Joe believes he may be a target for Bucs rock star general manager Mark Dominik at No. 20.
Browse through Mayock's rankings and give Joe your feedback. As Ryan is wont to say on his Sirius NFL Radio show, "Talk about it."