Josh Freeman = Drew Brees
January 1st, 2011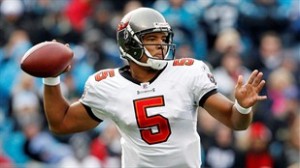 One guy has a Super Bowl ring.
The other guy has a grand total of two wins over teams with a winning record.
One guy will be leading his team in the playoffs (again).
The other guy, short of Joe waking up next to Rachel Watson, will be watching the playoffs like the rest of us on TV.
Yet if one is to look at statistics (settle down you baseball stat geeks), one would or could suggest Bucs quarterback Josh Freeman is a better quarterback than New Orleans quarterback Drew Brees.
That's the point that video star Anwar Richardson of the Tampa Tribune is trying to make.
In addition, Freeman's passer rating is 93.6 compared to Brees at 92.2. Freeman's passer rating also is higher than Indianapolis QB Peyton Manning (91.4), who has 17 interceptions and 31 touchdowns this season.

"It's just a constant awareness of ball security and also just having a whole offseason to get the majority of the reps to get used to the system," Freeman said. "Every year I try to improve, and from Year One to Year Two I feel like I've made pretty good strides. I feel like I can continue to get better.

"There are still some interceptions, ones you wish you could have back, because you really shouldn't have thrown it. If I can find a way to go out and correct that in the future, I feel like I can be pretty good."
Richardson also cobbles together other numbers to make one feel that Freeman is a better quarterback than Brees, at least this year.
While Joe won't argue with the premises, Joe bases his beliefs based on two relevant football issues:
Who is wearing jewelry?
Who is playing games past New Year's weekend?