Bucs 23, Saints 13
January 2nd, 2011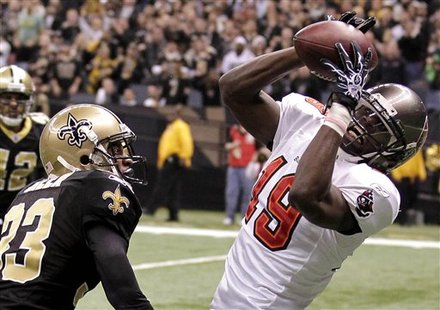 The Signature Win!
The Bucs kept the NFL world waiting an entire season before beating a good team — a team with a winning record. If Joe had to pick just one winner to beat it would have been the Saints in New Orleans. This was a beautiful thing.
The Bucs hung tough. They made — and got — their share of breaks and the Race to 10 is complete.
Joe called for Raheem to bring his A-game as a coach, and Joe was not disappointed (although there will be some nitpicking later). The defense held on, and Alex Magee (another scrapheap pickup), Larry Asante (practice squad fodder), Barrett Ruud and others made huge plays.
Josh Freeman was stout. Rookies Mike Williams and Dezmon Briscoe made sick catches. And the Bucs moved the ball despite becoming rather allergic to LeGarrette Blount through three quarters.
Yes, the Saints rolled over in the fourth quarter when Drew Brees got yanked for rest in preparation for the playoffs.
Now Joe becomes a Redskins and Bears fan for the afternoon. If they both win, then the Bucs are in a playoff game next weekend.
How amazing would that be, considering the Bucs could beat anyone in the NFC right now.