Win Bucs Jerseys On MONDAY!!
December 19th, 2010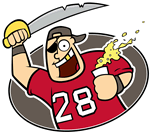 In case you've been living under a rock, Joe gives away great prizes every month.
In October it was an Earnest Graham jersey from Paradise Worldwide Transportation.
In November, Joe's friends at Brandon Auto Mall and Ed Morse Auto Plaza in Port Richey gave away Reebok replica Aqib Talib jerseys. And, of course, Ed Morse Cadillac Tampa dished out a Cadillac Williams jersey.  
And there's more jerseys to come on Monday!!  All you have to do is "Like" the Ed Morse dealers above on Facebook and your name will be in the hat to win. Click the links above and get it done now. Or get more details on the Win Stuff page on JoeBucsFan.com.