THE OPTIMIST: Excuses Are OK For Fans
December 24th, 2010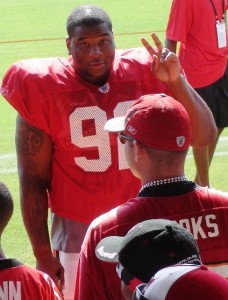 You've all read THE PESSIMIST, who spews his Bucs-related anger like no other. But Joe also wants you to know THE OPTIMIST. 
THE OPTIMIST is Nick Houllis, a Bucs fan and an accomplished writer whose steadfast allegiance to the team goes back to the 1970s. Houllis is the founder, creator and guru of BucStop.com, a place Joe goes to get lost in time via Houllis' stunning video collection.
THE OPTIMIST will shine that positive light in your eyes. Some will love it. Some won't.
I recall a critic who once said I can't write an article without talking about Derrick Brooks or Warren Sapp. I hope that person doesn't catch this one, because I'm going to mention one of those guys and more!
Because we are not the Tampa Bay Buccaneers, we ARE allowed to make excuses. Now whether we make them or not, the Bucs had the Lions beat. There was no excuse needed for that game. You play with a little more fire and throw some caution to the wind, and we're talking playoff opponents now instead of playoff chances.
But when your injured reserve list could be the starting lineup on a fantasy football roster, its time to stop calling it an excuse and calling it a reason. Think I'm kidding? Here is the Bucs IR team line up. "Now starting on defense…"
DE Brandon Gilbeaux, DT Brian Price, DT Gerald McCoy, DE Kyle Moore, LB Jon Alston, LB Quincy Black, DB Aqib Talib, S Cody Grimm, S Tanard Jackson (suspended reserve)!
Not a bad lineup, huh? Of course like their real counterparts, this team would get a penalty for not enough men on the field, theres only 9 there. Somehow I get the feeling that won't be a problem by Week 17. Maybe some of the offensive players like Jeff Faine, Davin Joseph, Demar Dotson and Kareem Huggins can switch to defense!
I'm kidding to a degree, but every knowledgeable Bucs fan watching the Lions march down the field not once but twice was thinking the very same thing. This team has finally felt the damage of all the injuries.
It was amazing for the Bucs to lose Tanard Jackson and replace him with Cody Grimm. It's incredible that Jeff Faine and Davin Joseph can go down and be replaced by Jeremy Zuttah, Ted Larson and Derek Hardman. Simply put, that is fantastic coaching. But it can only go so far; you can be amazed how far rubber bands will stretch before they breaks.
The really remarkable part of the whole situation is the 'negative Bucs fan' guy who doesn't believe that injuries should be used as an excuse. Like I said, I can understand why Raheem Morris doesn't want his team to use them, but as for us, well it's really easy to understand.
How far do you think the Bucs would have gone in 2002 had Dexter Jackson been declared ineligible. Then, John Lynch lost for the season. Say goodbye to Greg Spires, and bye-bye to Booger McFarland. See ya later Brian Kelly, and Warren Sapp. Nice to know ya Cosey Coleman and John Wade. Finally, have a good time Alshermond Singleton. Somehow 12-4 would be a stretch, heck 8-6 in week 15 would be a major undertaking, just like it is now.
To clarify, so there is no misunderstanding, I do not assume that the 2010 Bucs players on IR are anywhere near as good as their 2002 Super Bowl counterparts. Not even close, but for comparisons sake, those are the same positions that got hit. Kind of makes you think, huh?
Truth be told, I would not be surprised if the Bucs can compete against the Saints in week 17 if they can make it that far and still be in contention. It seems it takes these young players that the Bucs are plugging in a week or two to learn the nuances of their position.
But when you continue to play musical chairs with the Bucs starters, there is going to be a limit to how far the Bucs can go before they, like the proverbial rubber band, just snap.