Stylez On The Way Out?
December 27th, 2010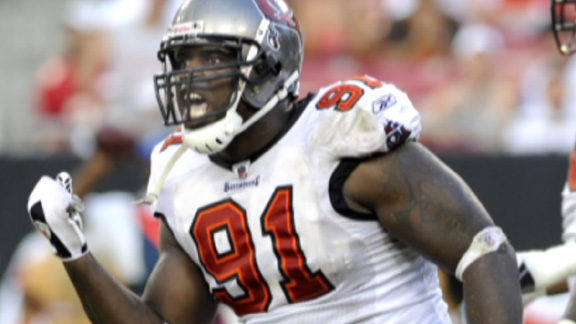 It seems like the defensive coordinator shot a loud message at Stylez White yesterday, when Michael Bennett started at right end where White had opened every game this season.
Then on Seattle's first possession, Bennett responded with a tackle for a loss in the backfield on 3rd-and-7.
In a TBO.com postgame notebook, an item typed by video star Anwar Richardson wonders whether this spells the end of White's four years as a Buccaneer.
DE Stylez G. White might have seen his last day as a Bucs starter. Michael Bennett started at right end and White, coming off the bench, did not have any tackles or sacks.

As a starter, White had 4.5 sacks this season and struggled to establish a consistent pass rush. White, 31, will be an unrestricted free agent next season and Sunday's switch gave Tampa Bay coaches a chance to see Bennett in a starting role.
Bennett, 25, is a real veratile talent that the Bucs need to harness and coach up. But White, 31, is no stiff and he's proven extremely durable and he does make his share of plays.
Joe could easily see where both guys are on the Bucs next year in a reserve role. But it's clear the team's going to try and upgrade at defensive end. Hopefully on both sides of the line.