Still Not Enough Blount
December 5th, 2010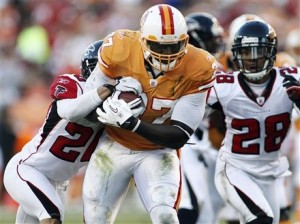 Maybe Joe's out of his mind.
LeGarrette Blount pounded out 103 yards on 20 carries today and Joe still doesn't think he got the ball enough. It feels like the Bucs get away from the running game early, even when it's working.
Greg Olson is just not content with giving Blount the ball until the opponent proves it can stop him.
Before the Bucs' final drive, they had called more passes than runs.
Blount is the biggest weapon on offense. He's the straw that stirs the drink. He was not on the field in the Bucs' 4-minute offense to close the game.
Plenty of time to run the ball, yet no Blount to even keep the defense honest. Heck, the Bucs never even busted out a draw play to Cadillac Williams that was so effective in past games.