Sapp Casts His Vote
December 28th, 2010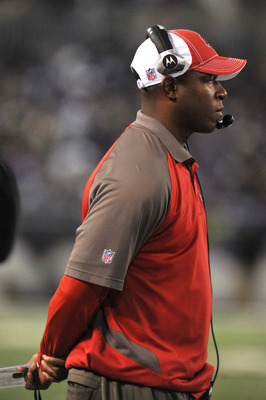 Huddled around the NFL Network set, watched daily by real men, Warren Sapp joined Mike Lombardi and Charles Davis for an NFL Coach of the Year debate.
Sapp's ballot goes to the guy he "raised from Day 1." You can watch the interaction here. 
Lombardi says "this is Bill Belichick's finest hour."
Davis says he likes "Lovie Smith because all year long it's been 'they're not that good.'"
Sapp goes on to say Andy Reid is out of the running because he doesn't get credit for thinking Kevin Kolb was a better choice than Michael Vick.
Oh, the drama.
As Joe has written countless times, anyone can make a phenomenal argument for Raheem Morris. A win Sunday has to make him the favorite.
If he does snag the award, that also has to jack up has value on the coaching market. Raheem's not going anywhere now, but this is a business. And those awards look awfully sexy at the negotiating table.