Run Defense Off Life Support
December 26th, 2010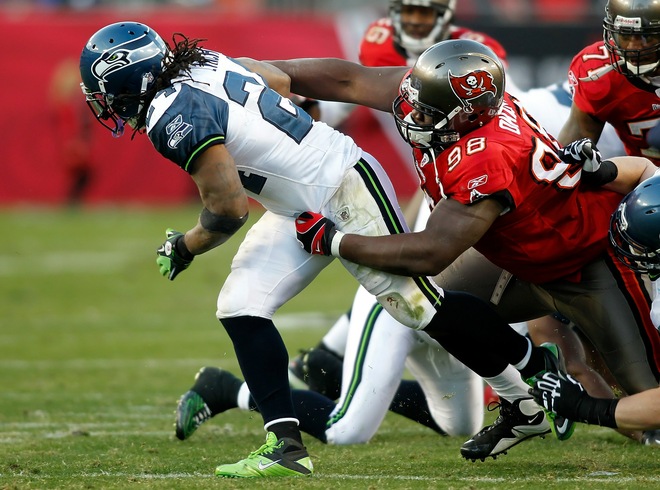 Hallelujah!
The Bucs didn't turn Marshawn Lynch into a Pro Bowl running back, save for one long run. The gaping holes seen in previous weeks against juggernauts Detroit and Washington just weren't there today in the 38-15 gashing of Seattle. And the Bucs even mixed in some stout goal line play in short yardage.
Big fella defensive tackle Frank Okam, in his second start since being freed from the practice squad, had six tackles, second on the Bucs today behind Geno Hayes' eight.
Playing primarily in Gerald McCoy's 3-technique, Okam told Joe the big difference out there today was "more focus."
"We were pretty embarrassed about what we put on tape the last couple of weeks, so it was important for us to go out there and stop the run so we could do some things and get them in one dimension," Okam said.
Joe will have more from the Okam later.
A few days ago Raheem Morris said he simply needed Al Woods and Okam, with his 350+ pound frame, to get better. Joe wants to believe they have.