Raheem Morris' Words Backfire
December 21st, 2010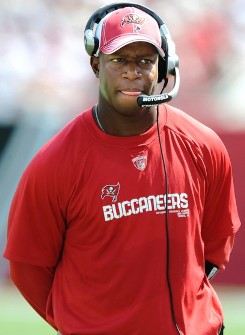 As we approach the second decade of the 21st century, many in the sports world use cliches, often empty. They sound good but mean nothing.
Derrick Brooks' famous "it is what it is" springs to mind. What is "it?"
Then there is another of Joe's favorites, "We did what we had to do." OK, what did you do?
Of late, there's another empty phrase coined by Ray Lewis. "Imposing your will." And what will would that be, the will to allow your friends to gun down innocent citizens outside an Atlanta nightclub?
Or would that be the will to stand in front of a judge and cop a plea?
(For the record, Joe likes Ray Lewis.)
It's also a phrase Bucs coach Raheem Morris uses from time to time and it may have killed the Bucs playoff hopes.
Seems Raheem used this phrase at some point last week about playing the rebuilding since 1957 Detroit Lions. Instead, it was the rebuilding since 1957 Detroit Lions who imposed their will on Raheem Sunday, so reports Tom Kowalski of MLive.com.
"It will all depend on what they do and what I want to do and how I want to force my will on our opponent that day," Morris said in the story. "The thing is, you always have a rotation in the interior line anyway, but now you particularly have to have a rotation inside because you've lost your franchise guy there in McCoy."

Raiola was upset at the suggestion that Morris and the Bucs could "impose their will" on the Lions.

"Impose their will? Is that what happened?" Raiola said loudly as reporters entered the locker room.
How about imposing some will inside the opponent's five? You know, the will to gain a first down if not a touchdown? That would be a nice will to start out with.