No Malice In The Palace On "Fifth Down" Play
December 14th, 2010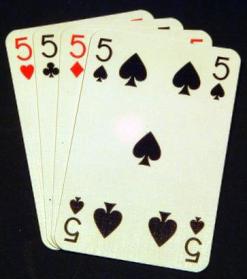 Judging by the comments from Bucs fans on this here site, and from angry phone calls and Twitterings over the past day, Joe has a sense that Bucs fans are outraged at NFL officials.
There was certainly some sort of goof-up near the end of the Bucs win over the Redskins Sunday. Enough that enough people think the Redskins got a fifth down.
Mike Tanier of FootballOutsiders.com heard all the ruckus and decided to do some research on his own about the issue.
So let's see: we have about two feet of links missing from the first down chains, which somehow stretch from the 12 to the three-yard line; a generous spot for Armstrong's catch; an umpire taking the ball away from a fellow official in good position to make a spot and going for a stroll around the red zone with it; and a pass play that gained somewhere between 9.25 and 10.05 yards on first-and-10 in a close game that isn't measured, even though the clock stopped. Raheem Morris should have demanded a measurement, or the officials just should have done it themselves. If those chains were stretched out, Armstrong would never have been rewarded a first down. Then again, Morris might have preferred giving the Redskins the first down: extra downs mean extra shots at the end zone.

I don't think this was a case of home cooking. I think it was raining. The chain gang got a little lax about placement. The referees wanted to keep things moving. Shanahan was screaming about timeouts, and everybody was focused more on the clock than the markers, which became less relevant once the Redskins were inside the five-yard line. Everyone on the field assumed that Armstrong had a first down: the down indicator stayed consistent through the whole series, and, there is no evidence of confusion among the Buccaneers when they line up for the Moss touchdown. And of course, the missed extra point rendered the whole sequence moot.
The reason why Joe hasn't gone ga-ga over this issue is that, well, the Bucs won the game. Additionally, the Bucs didn't complain while the alleged misdeed actually took place.
So in Joe's eyes, at the risk of sounding irresponsible if not unethical, this issue/non-issue is a moot point.