Myron Lewis Talks To Joe
December 11th, 2010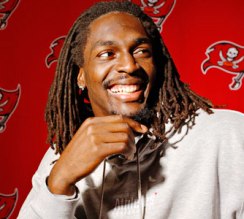 Joe recently had the chance to talk with rookie cornerback Myron Lewis. Given all the injuries to the Bucs secondary, the Vanderbilt graduate will see plenty of playing time the rest of the season.
JoeBucsFan: It's pretty impressive that you have lost so many players in the secondary to injuries and other things, but still the secondary plays well. Can you explain that?
Myron Lewis: As a DB, you always have to be ready to accept the challenge. If a player goes down you always have to be ready to go out there and put up the effort and stand up. Football is all about competition. All of us our teammates. When we're on the sidelines we're cheering them on. When they have to come to the sidelines and we are on the field, they are cheering us on.
Joe: How much does it help to have Ronde Barber around here to help you out, a guy who has seen so much in the NFL?
Lewis: It's great to have Ronde. He's the guru of the team. He knows everything, all the positions on the field. He knows how to get us lined up right. He knows the plays that are coming before the play even happens. He's been around the league so long that it's like second nature.
Joe: Do you guys lean on him?
Lewis: Oh, yeah. He's the father of our defense.
Joe: What has been the biggest challenge for you this year? Was it earlier in the year when you were dinged up?
Lewis: Yeah, it's always frustrating when you are hurt. You want to be out there on the field. But when you are hurt, you try to take it day by day.