Monday Night Football At Honey's
December 20th, 2010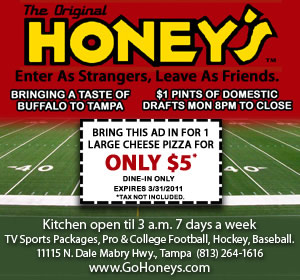 It's a special Monday night with the Vikings and Bears playing a rare outdoor game in Minnesota with snow and bitter cold in the gametime forecast. 
And the best place in Tampa to watch the game is Honey's.
No two words annoy Joe more than "kitchen's closed."
When Joe watches Monday Night Football, Joe likes to know he's not going to be kicked out after the game or get those annoying it's-getting-late stares from a server or bartender.
Joe wants to watch the game and not worry about his food and beer needs being met. This is why Joe insists you head to Honey's in Carrollwood to watch Monday Night Football. It's $1 draft pints every Monday night!!! And top notch food is served until 3 a.m. 
No lie. Here's the menu:
Among Joe's many favorites, the wings are the best in Hillsborough County — ownership is from the Buffalo area — and the place is a Tampa tradition all set up for sports fans' enjoyment. They've got the NFL Sunday Ticket and all the college football, plus MLB and NHL.
Joe hopes to see you there.