Joe's Buying The First 50 Beers
December 27th, 2010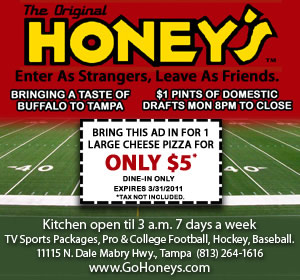 Joe's buying gallons of beer and cheering like a madman for the Falcons to beat the Saints tonight at Honey's in Carrollwood.
And you're invited!
The Saints have to lose in Atlanta! Have to, otherwise the Bucs are all but dooomed in the playoff hunt.
The Bucs need the Saints to lose to set up a Bucs-Saints showdown in New Orleans next Sunday with a playoff berth on the line.
This is it.
So Joe is buying the first 50 drafts for JoeBucsFan.com readers who show up at Honey's starting at 8 p.m. After that, pint drafts are only $1. What a deal!
You can even get a massive pizza for just $5 using the coupon on this page.
This will be a blast. Honey's is open until 3 a.m., so you don't have to hit the road early. Have a blast with fellow hardcore Bucs fans.
Honey's is located at 11115 N. Dale Mabry Highway.