Jeremy Trueblood Swallows Pride, Mans Up
December 9th, 2010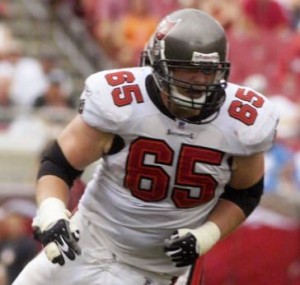 Of course Jeremy Trueblood is upset with losing his starting gig. Joe can understand that.
But what impresses Joe is Trueblood's reaction to the demotion.
Rather than stomp his feet and whine constantly to whoever will listen, the former starting right tackle wants just one thing to happen in the next month: playoffs, so he told eye-RAH! Kaufman of the Tampa Tribune.
"It's disappointing, but I'm trying to be a team player first," Trueblood said Wednesday. "It's more disappointing than anything else, anger too, but honestly I can't be that mad. I have a job playing a kid's game.

"I just want to contribute to wins," said Trueblood, a potential free agent in 2011. "I don't like standing on the sidelines. This is when it gets exciting and you'd like to be in there. If I've got to be a good team guy and get our defense ready, that's what I've got to do. Things happen and I realize that. James Lee is my friend and I wish him the best. I don't want him to do bad so I can go back in there … I want him to succeed so the team does well."
How refreshing is that? Joe has newfound respect for Trueblood, who Joe always liked, the brainfart penalties he was usually guilty of notwithstanding.
With this kind of a team attitude, Joe would love to see Trueblood stick around.