"It's Not A Zoo Mentality"
December 3rd, 2010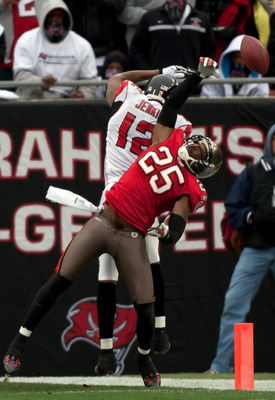 Pressed Friday about discipline issues that have faced the Bucs this season, Bucs captain Jeff Faine said it's a constant effort to keep the incredibly young Bucs roster on the right path off the field.
But Raheem Morris is doing a fantastic job mentoring the young Bucs despite the problems, Faine said during The Jeff Faine Show with host J.P. Peterson on 1010 AM.
"It is not a zoo mentality in the organization. One of the things that Coach Morris and Mark Dominik were making decisions on with who to draft and who to sign, they brought in guys that had some problems. It's our responsibility as leaders and as an organziation to guide them. I know when I was a younger player I made stupid mistakes," Faine said. 

"[You hear] 'Coach Morris is running a zoo. Coach Morris can't handle the team.' He's dealing with younger guys. I'm the fourth oldest guy on this team and I'm 29 years old. That's scary. …We've won because of those guys. …But their execution is not carrying over off the field.

"Part of that is leadership from me and Raheem and Dominik and the other veterans. To teach them to understand the need for preparation, to take care of their body, [off-field behavior]. It's not by any means perfect now. And it's not going to be perfect anytime soon. We have to help them make better choices. And that's what we're working toward and that's what we're going to do.

"[Offensive line coach] Pete Mangurian actually made a statement, and he's going to hate that I'm bringing it out, 'When guys make selfish decisions off the field, it affects not just players, but players' families, owners, everyone. If we lose Aqib Talib for the season, that's going to hurt everybody."
Faine went on to say that he tries to explain to young players how much is potentially at stake financially if they screw up off the field.
"The message at the end of the day [to the young guys] is, 'You're killing yourself,'" Faine said.  
The Bucs, the youngest team in the NFL, are loaded with loads of rookies and young players. To Joe, it seems like simple math that the Bucs have their share of discipline challenges. Whether the Bucs are equipped to deal with them successfully will be answered this year and next.