"It Bothers Me So Much"
December 10th, 2010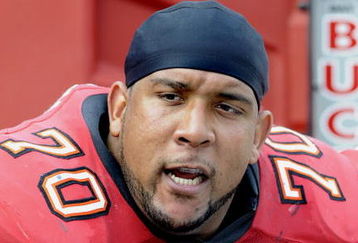 Joe so very much appreciates an unsanitized NFL player interview. They are far too rare in this world of politically correct BS that has permated every aspect of society.
This is one reason why Joe is a big Donald Penn fan. The man delivers his truth brilliantly and naturally, arguably the best interview on the Bucs.
Penn kept it real this week in an interview for the real man channel – NFL Network. The Bucs have it up on their website for all to watch.
Penn was asked if it bugs him that he doesn't have a Pro Bowl on his resume. Here's Penn's response:
"It bothers me. It bothers me so much. You guys have no idea. I mean, I've been working hard. I'm kind of a cocky guy. I have a lot of faith in myself and stuff I do. I think I should be in there. I know I'm a Pro Bowl caliber guy. You know, I wasn't a first round pick. I don't play for the Dallas Cowboys or Washington Redskins, New York Giants, you know where they get all the pub. Philadelphia Eagles, where they're on TV every week. …It's hard for the world to see what I can do. …If you watch film, my film doesn't lie."
Lots of other good stuff in the interview.
Joe hopes to see Penn get his Pro Bowl honor in a couple of weeks. Outside of a legend nod to Ronde Barber, Joe doubts any other Buccaneer has a shot.