Gerald McCoy Getting Props
December 7th, 2010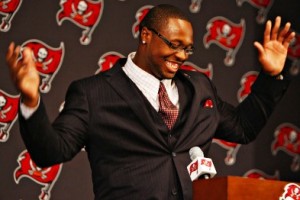 Gerald McCoy was born the wrong year.
Or was it Ndamukong Suh?
The two monster defensive tackles, drafted Nos. 2 and 3 in this spring's draft — Suh by the Lions and GMC by the Bucs — will forever be linked by both team's fans despite the fact they are far different players.
Bitter beer-faced Bucs fans grumble throughout the night that GMC isn't putting up near the numbers that Suh is, never mind that Suh is surrounded by a far better cast of teammates on the defensive line which, of course, he takes advantage of.
Dixie Chicks center Todd McClure won't join the Bucs fans racked with irritable bowel syndrome over the fact GMC's numbers are not like Suh's, as chronicled by eye-RAH! Kaufman of the Tampa Tribune.
"That rookie defensive tackle (Gerald) McCoy, he's going to be a great player for a long time. He's got a lot of moves and he never stops. He's got a great motor and you can't try to block him the same way because he'll give you a counter-move and get past you. There's no doubt in my mind he's going to be an outstanding player in this league.''
Color Joe a sap, but Joe would rather take the input from a guy who has had to tangle with GMC in hand-to-hand combat as opposed to a jumble of numbers on NFL.com.