Enough Of The Three-Man Front!
December 7th, 2010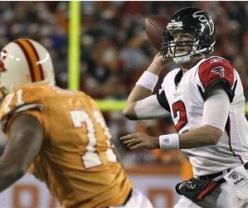 When Joe wants to learn about defensive line play, who better to turn to than former Bucs defensive end Steve White? The guy has played the game at its highest levels and breaks down football so even the chicks at Panera with their foo-foo coffees and lattes (with Sweet 'N Low!) prattling about Pottery Barn tripe can understand.
So on his blog, "Passing on the Game," White details what a mess this is to employ a three-man defensive front rush on a drop back quarterback like Matty Ice.
While White is proud of how far the Bucs have come this season, he's about ready to toss his remote control through his plasma TV if he sees Raheem Morris use another three-man defensive front again in passing situations.
Now I know I have beaten this dead horse all year but it literally made my head hurt to see the Bucs use the 3-3-5 so much yesterday. We may not have any pro bowlers up front but we do have some guys who can pass rush if given a chance. Instead they were put in situations where they three guys had to try to beat five along with a chip block or we blitzed which never seems to get much pressure either. Don't get me wrong, a few times guys still were able to beat two offensive lineman and get some pressure, but why make it so damn hard? I just will never understand why Coach Morris is so wedded to a defense that doesn't produce favorable results the majority of the time. Especially when in my eyes its clear that a four man rush has been much more productive this year.

I'll tell you this much, no matter what anybody says I am convinced that we would have been better off rushing four to at least have a shot of getting some pressure on Matt Ryan on 3rd and 20 instead just rushing three. And while that one play didn't lose the game for us, that conversion was definitely a back breaker.
Joe touched upon this Sunday. Ryan needed to get 20 yards for a first down. He's not that mobile. The absolute worst thing the Bucs could have done was allow Ryan plenty of time to find an open receiver, and Matty Ice threw a perfect pass for a 25-yard gain and a first down.
To Joe, this was a blatant example of playing not to lose instead of playing to win.
The Bucs lost.