Bucs Soured On Sabby Quickly
December 1st, 2010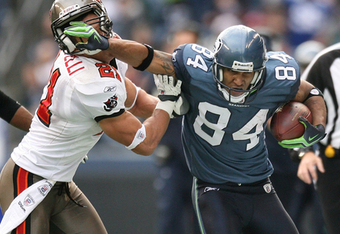 Yesterday when Joe learned of the news that the Bucs washed their hands of Sabby, Joe literally had to call a second source for confirmation, and then received an e-mail from a third, trusted source that Joe then knew confirmed the news.
Yes, that's standard operating procedure for a good reporter. But the news was so startling to Joe he couldn't believe it.
Now Joe doesn't have to connect the dots to figure out who blew the coverage on the Todd Heap touchdown last week. Some thought it was Sabby. The Bucs wouldn't say… until yesterday that is.
Well, the Bucs didn't actually say it. But actions often speak louder than words.
The move didn't surprise Tampa Tribune columnist Joe Henderson at all. In fact, he is of the mind the Bucs had their fill of Sabby's unfulfilled promise.
It's worth remembering that Raheem Morris coached the defensive backs before taking over as head coach. You figure he's going to know who has the goods back there and who is just a lost cause.

It sends a terrific message to the locker room. Production counts, no matter who you are or how long you've been there.

Even with the secondary thinned by injuries and quarterback Matt Ryan coming to town Sunday, the Bucs decided they'd take their chances with a guy who didn't know the playbook instead of the guy who knew it (maybe) but couldn't execute.
Well, here's what piques Joe's interest: A guy with a white cane could see that Sabby simply was not learning how to play in the NFL. He was doing the same stupid crap over and over whether it be blown coverages, late hits or his myriad of mistackles which he led the NFL in last year with 19.
So Morris and/or Mark Dominik came to the conclusion Sabby couldn't play from the Baltimore game? Why not keep him on special teams and find someone else to start?
Mind you Joe's not arguing against the move. Joe just finds it strange the Bucs wouldn't keep Sabby as special teams fodder, unless the Bucs thought Sabby would pout and be a distraction for getting usurped by a guy off the street?
Sabby had already been walked over by a free agent pick-up and a rookie seventh-round draft pick, just in the first month of the season. Maybe a lowly practice squad player stepping over Sabby for a starting gig might have been a bit too much for even Sabby to handle?