Bucs Need Running Game Sunday
December 4th, 2010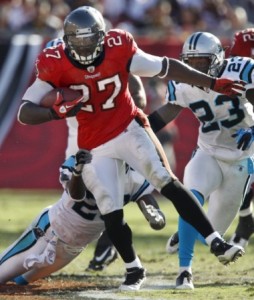 It seems that last week against the Crows, Bucs offensive coordinator Greg Olson was content with testing the Crows cornerbacks early and often.
That wasn't a bad philosophy given that the Crows cornerbacks were not the best in the NFL. But when it was clear Josh Freeman struggled with his accuracy, that original premise by Olson had to change.
That can't happen Sunday, writes eye-RAH! Kaufman of the Tampa Tribune. Twittering on the TBO Bucs Twitter feed, Kaufman claims a pass-happy attack will sink the Bucs.
If Josh Freeman is forced to throw 35 times Sunday behind a patchwork OL, the Buccaneers will be in big trouble against the Falcons.
You know what this means, right Bucs fans? LeGarrette Blount. Olson needs to feed Blount the ball time and time again and have him pound the ball.
Oh yeah, winning time of possession with a running game will keep the ball out of Matty Ice's hands as well.