Bucs Injuries Mount; Talib Out For The Year
December 6th, 2010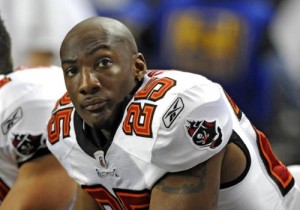 The Bucs awful Monday got worse today as Rick Stroud of the St. Petersburg Times is reporting via Twitter that Bucs cornerback Aqib Talib is out for the year and placed on injured reserve.
@NFLSTROUD: CB Aqib Talib will miss the rest of the season for the Bucs with a hip injury. No surgery, but he tore a tendon from the bone.
This is ugly news for the Bucs secondary already down Tanard Jackson who has all but smoked himself out of the NFL, and Cody Grimm who broke his fibula last week.
The news is also troubling for Jeff Faine as Stroud, again on Twitter, suggests Faine's return in 2010 is not at all certain.
@NFLSTROUD: Bucs also likely have lost C Jeff Faine for the season with a triceps injury.
With all do respect to Faine, this isn't as bad as Talib; though clearly not good. Zuttah will do fine in Faine's place. Talib's loss is a much bigger hole to fill.
There goes Talib's Pro Bowl shot, and he finishes the year with six interceptions and one off-field berating of an official in 10 1/2 games.
Faine, in Joe's mind, now has one foot out the door. He's 29. He makes big money. And he'll have missed a pile of games in 2009 and 2010. Throw in Jeremy Zuttah filling in well at center, and Faine looks like old, damaged and replaceable goods.
Joe's not sure the Bucs can recover successfully this season from yet another round of lost players, especially two guys contributing at a high level. This seemingly makes rookie Derek Hardman the starter at right guard for the rest of the season with Zuttah moving to center, and Talib's talent and playmaking is irreplaceable.
Regardless, Joe expects the Bucs to win their next three games: at Washington and home against Detroit and Seattle.
But beating New Orleans at their place now requires a much a greater miracle.