Ten Signs Bucs Are Legit
November 2nd, 2010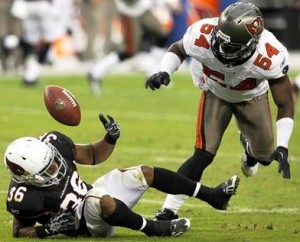 As you will hear (and see) in a video Joe has scheduled for this afternoon, Derek "Old School" Fournier is outraged people don't respect the Bucs because the Bucs got absolutely chainwhipped by the two good teams they have played thus far, both at home.
Now Joe's not the kind of guy who gives two whips what anyone thinks of the Bucs. But for those who cannot sleep at night without knowing what some slob in Connecticut who works for some Stalinist four-letter organization run by an Orlando mouse thinks of the Bucs, Joe quotes Peter King who said this morning, while he co-hosted "The Opening Drive" with Bob Papa, heard exclusively on Sirius NFL Radio, "Bucs fans ask what the team can do to gain respect. It's very simple: Beat a good team."
Well, Jenna Laine of NFL.com doesn't need to hear anyone's feedback on the Bucs. She has a list this morning of 10 signs the Bucs are legit.
Joe's not going to spoil the list for you so you'll have to click the link. But one sign Laine cites piqued Joe's interest.
4) Buccaneers ticket hotline answering machine has messages.
Joe has two thoughts for those who sit in their office chairs and visibly shake while biting their wrists because of what others write and speak of the Bucs:
1) A Falcons fan called Peter King this morning and undressed the Sports Illustrated writer for not giving the Falcons any respect and for constantly slurping the Bucs.
2) Joe wonders if the same Bucs fans who pound their fists on the kitchen table because honest pundits point out the Bucs have been alley-beaten by the two good teams on the schedule — at home no less — also fight the good fight for Boise State being in the BCS championship game despite playing a low-rent schedule?