Tampa Bay Has Never Seen This Kind Of Offense
November 1st, 2010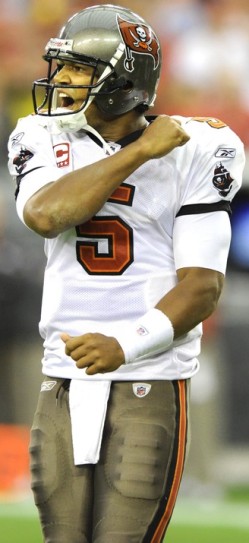 Joe went on record just a scant few minutes (not hours) after the Bucs win over Arizona to suggest the Bucs offense is on the cusp of blowing up.
It humbles Joe to read veteran sports columnist Gary Shelton pretty much agree with Joe.
Shelton, like Joe, is not hoodwinked over the win to believe the Bucs do not have flaws. They most certainly do.
But the way Josh Freeman spread the ball downfield to Arrelous Benn, Mike Williams and Kellen Winslow, and the bulldozing running of LeGarrette Blount, well, it took Joe's breath way, sort of like Joe finding Rachel Watson waiting for him on Joe's leather couch flaunting some naughty getup.
Shelton wrote in the St. Petersburg Times that locals haven't seen an offense with this kind of firepower since Bobby Bowden, Dennis Erickson and Steve Spurrier ruled the Sunshine State.
Man, what kind of offense might the Bucs have once the kids grow up

Never has there been this kind of explosion, this kind of weaponry, on a Tampa Bay football team. This is a franchise of Lars Tate and Michael Clayton, of Alvin Harper and Randy Hedberg, of second and 9 and third and 11. Throughout the history of the franchise, there have been great defenses, and from time to time, there have been great players scattered across the offense.

But not this many.

And not this good.

And not this young.
Joe, again, wrote this yesterday: Blount was the missing link. With Cadillac Williams at tailback, defenses had zero reason to be concerned with the Bucs' running game. With Blount, he will not only keep defenses honest, but teams will have to bring someone extra in the box to stop him which means if teams continue to double Williams and shade Winslow, Benn and/or Sammie Stroughter should be free.
There are only so many players a defense has to spread around.
Folks, the Bucs have an offense that's just about ready to blow up like we've never witnessed before.